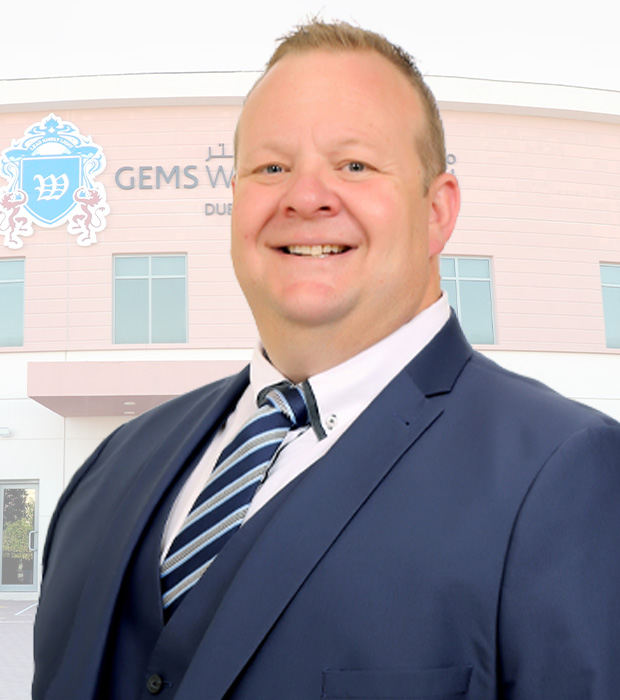 Welcome Message from the Principal
Mr Matthew James Lecuyer
To one and all; welcome to our school.
Here at GEMS Winchester Dubai School (WSD), we share one common goal; that learning is at the centre of all that we do. We truly believe that every child has the right to quality education and we should embrace every opportunity we get to support the hunger and thirst of education for all of our students.
I am excited and immensely proud to be the Principal and CEO of GEMS Winchester School Dubai. The richness of diversity, the electric vibe of character and ambitious outlooks, combine together to form the backbone of our school. Children as young as 4 to the mature age of 18 work harmoniously alongside one another, learning from each other and support dreams of us all.
The GEMS values are at the core of our school's philosophy alongside the teaching and learning of the British Curriculum. Furthermore, our teaching and learning styles ensure that children are equipped with life skills and knowledge that will enable students to face tasks and jobs that are not even yet discovered in our ever-changing world. Our 7 Competency (7Cs) framework embraces areas such as; collaboration, communication and critical thinking to ensure our students are ready for challenges that lie ahead and students have excellent attitudes to learning and metacognition.
Parental support and engagement are integral to learning. A strong link between home and school is ideal and enhances student's understanding and enjoyment of school. All our staff strive to create a climate of learning with strong, open and positive partnerships between adults, children and the wider community that ensures the well-being of all.
Student Leadership and a sense of teamwork are paramount at WSD. Our House system encourages a sense of belonging where we all strive together to make our house the champions for the term and year. The House Captains, Arabic Ambassadors, Student Voice delegates and Head Boys and Girls embrace the opportunity to leave their mark not only on their fellow students but also on the footprint and history of our school.
As a Principal, I have the honour of being able to lead learning to make a difference in the young people in our care. A statement I respect enormously is;
"The world is full of good, kind inspirational people; however, if you can't find one, be one."
I strive to be one of those people.
Matthew Lecuyer
Principal & CEO